Classes
Classes are conveniently priced for everyone to be able to afford and move towards their fashion dreams. With 10 students per class, pay-as-you-go option, morning and evening classes in an intimate setting, you are able to decide what works best for you.
Our goal is to enrich your education by working with professionals who are masters in their trade. Providing you with a high level of instruction at the lowest cost possible, Moda Design and Academy is here for you.
Las clases tienen un precio conveniente para que todos puedan pagar y avanzar hacia sus sueños de moda. Con 10 estudiantes por clase, opción de pago por uso, clases de dia y nocturnas en un ambiente íntimo, usted puede decidir qué es lo que funciona mejor para usted. Nuestro objetivo es enriquecer su educación trabajando con profesionales que son maestros en su oficio. Proporcionarle un alto nivel de instrucción al menor costo posible, Moda Design and Academy está aquí para usted.
Fashion design, fashion illustration, sewing skills, garment construction, tailoring, and pattern making skills are all necessary to communicate, transform and produce a garment. Moda Design and Academy allows you to find your passion for fashion with beginning, intermediate and advance classes.
El diseño de moda, ilustración, las habilidades de costura, la construcción de la ropa, la sastrería, y las habilidades de la fabricación del patrón son todos necesarios medios de comunicar, transformar y producir una ropa. Moda Design and Academy le permite encontrar su pasión por la moda con clases de inicio, intermedio y avanzado.
Schedule & Classes - Horario y Clases
Our 3 hour classes are scheduled as follow:
Wednesday
Evening 5:30pm - 8:30pm
Friday
Morning 9:00am-12:00pm
Afternoon 3:00pm-6:00pm
Evening (class available by appointment)
Saturday classes are only in the morning 10:00am - 2:00pm.
Nuestras clases de 3 horas están programadas como sigue:
Miercoles
Noche 5:00pm-8:00pm
Viernes
Mañana 9:00am-12:00pm
Tarde 3:00pm-6pm
Noche (Disponible por cita)
El Sábado las clases son solo en la mañana 10:00am - 2:00pm.
Classes are divided into 3 areas with each of the areas having 4 levels of learning. Personalized lessons will be available when requested. Each student will be evaluated and placed in the appropriate class.
Las clases se dividen en 3 áreas con cada una de las áreas teniendo 4 niveles de aprendizaje. Las clases personalizadas estarán disponibles cuando se soliciten. Cada estudiante será evaluado y colocado en la clase apropiada.
Beginner - Principiante
This class is for the student who has never taken a fashion design class and is new to sewing and drawing.
Esta clase es para el estudiante que nunca ha tomado una clase de diseño de moda y es nuevo en costura y dibujo.
Itermediate - Intermedio
This class is for the student with basic sewing skills.
Esta clase es para el estudiante con habilidades básicas de diseño y costura.
Advance - Avanzado
This class is for the student who is looking to perfect their sewing and design skills.
Esta clase es para el estudiante que busca perfeccionar sus habilidades de costura y diseño.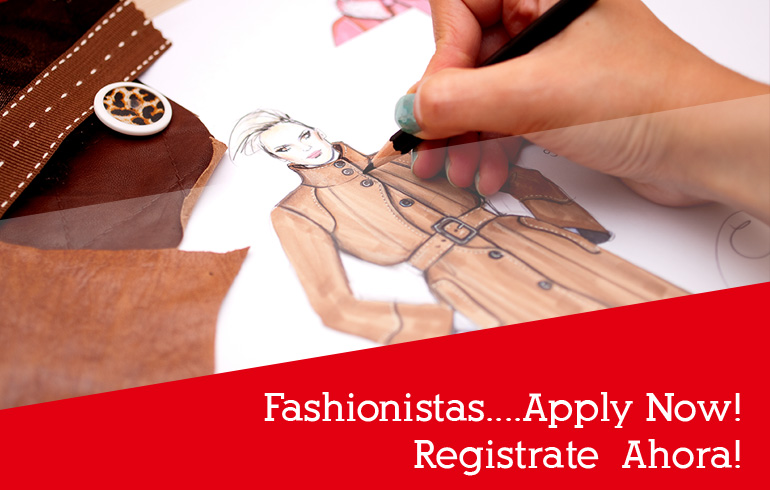 Here are some of the topics that will be covered in the curriculum:
Estos son algunos de los temas que serán cubiertos en el currículo:
- Illustration & Inspiration Boards (Tablas de ilustraciones e inspiración)
- Basic sewing (by hand) and with machines.(Costura básica (a mano) y con máquinas)
- Textiles
- Pattern making & cutting (Fabricación y corte de patrones)
- Look Books & Fashion Marketing (Márketing de Moda)
- Fabric Designs (Diseños de Telas)
- Sketching (Boceto)
- Custom Design (Diseño Personalizado)
Call us with any questions or Register NOW and reserve your spot. Classes are limited to 15 students, at Moda Design & Academy, we believe that smaller classes are essential to make sure each student has the best possible one on one learning experience.
Llámenos con cualquier pregunta o Regístrese AHORA y reserve su lugar. Las clases están limitadas a 15 estudiantes, en Moda Design & Academy, creemos que las clases más pequeñas son esenciales para asegurar que cada estudiante tenga la mejor experiencia posible en su aprendizaje.